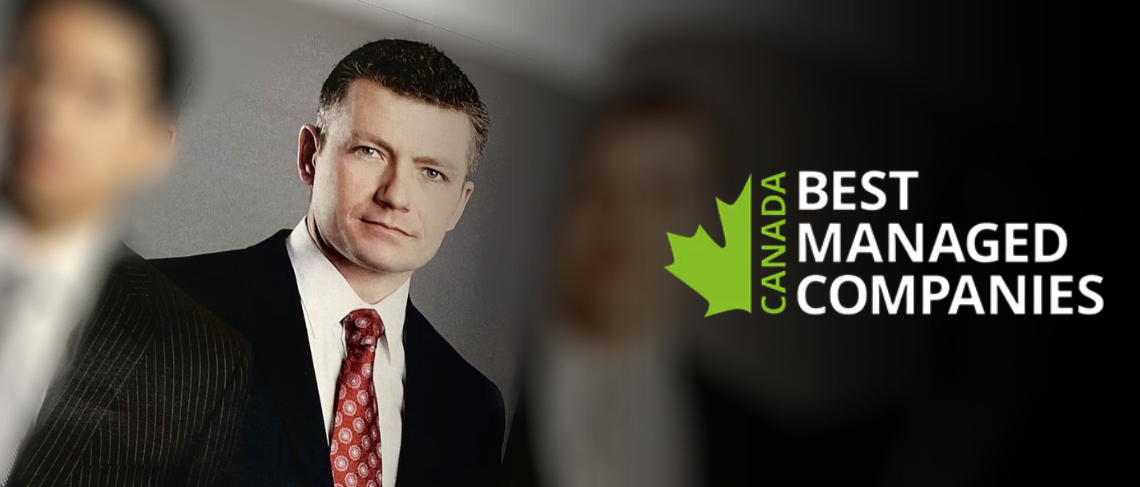 Mississauga, ON - Lakeside proudly announces its achievement as a Platinum Club member of Canada's Best Managed Companies for the 21st consecutive year. This prestigious recognition is bestowed upon outstanding organizations that have consistently demonstrated excellence and best practices in their respective industries.
Since our inception, Lakeside has remained committed to delivering innovative solutions and superior customer service. This accomplishment reflects our unwavering dedication to fostering long-term relationships with our clients, partners, and employees.
To commemorate this remarkable milestone, we are taking a trip down memory lane and sharing an exclusive photo of our President, Greg Houston, featured in Sir Magazine's "Canada's Fifty Best Managed Companies" back in 2009. Greg's visionary leadership and relentless pursuit of innovation have shaped our company's success over the years.
Our ongoing success is a testament to the unwavering support and trust of our valued clients and partners. We remain committed to delivering unmatched expertise, exceptional service, and industry-leading solutions to meet and exceed our customers' evolving needs.
We take this moment to express our heartfelt gratitude to everyone who has contributed to our journey, including our customers, employees, and stakeholders. We are excited to see what the future holds and continue to make a positive impact on the world of process automation!
𝗖𝗛𝗘𝗖𝗞 𝗢𝗨𝗧 𝗧𝗛𝗘 𝗙𝗨𝗟𝗟 𝗟𝗜𝗦𝗧 𝗢𝗙 𝗖𝗔𝗡𝗔𝗗𝗔'𝗦 𝗕𝗘𝗦𝗧 𝗠𝗔𝗡𝗔𝗚𝗘𝗗 𝗖𝗢𝗠𝗣𝗔𝗡𝗜𝗘𝗦 𝗣𝗟𝗔𝗧𝗜𝗡𝗨𝗠 𝗖𝗟𝗨𝗕 𝗠𝗘𝗠𝗕𝗘𝗥𝗦 𝗛𝗘𝗥𝗘:
https://www2.deloitte.com/ca/en/pages/canadas-best-managed-companies/articles/meet-our-winners.html

About Canada's Best Managed Companies

Established in 1993, Canada's Best Managed Companies is the country's leading business awards program, recognizing excellence in Canadian headquartered companies with revenues of $50 million CA or greater.
Every year, hundreds of entrepreneurial companies compete for this designation in a rigorous and independent process that evaluates the calibre of their management abilities and practices.

What makes the Canada's Best Managed Companies program unique?
Focuses on Canadian headquartered or Canadian owned and managed companies

Recognizes overall business performance and sustained growth

Recognizes the efforts of the entire organization

Measures more than financial performance
The program is sponsored by Deloitte, CIBC, Salesforce, The Globe and Mail and TMX Group.