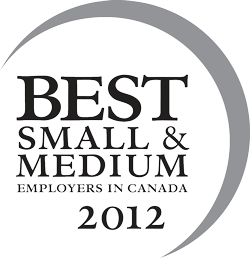 Lakeside Process Controls Ltd., a Local Business Partner of Emerson Process Management, has once again been recognized as one of the Best Small and Medium Employers in Canada. The study conducted by Queens School of Business, and Aon Hewitt the global human resources consulting and outsourcing business of Aon Corporation, recognizes companies from across Canada with between 50 and 399 employees that score the highest in employee engagement. Companies are ranked based on feedback collected in an extensive employee opinion survey where individuals are given the opportunity to critique organizational practices and provide in-depth feedback on their perspectives of the organization's leadership team.

Lakeside ranked 31st on the competitive list of Best Employers. Results from the study are published in the February 8, 2012 edition of PROFIT Magazine. The magazine writes, "Lakeside ensures open lines of communication between management and employees, achieved through quarterly communication sessions, monthly team meetings, regular one-on-one meetings between employees and managers, and an open-door policy."

"Maintaining and improving employee engagement is our number one strategic initiative," said Greg Houston, President of Lakeside. "We invest in our staff wherever possible; they are the core of what makes our company successful." adds Stephanie Enright, Human Resources Manager.