Leaders of the Instrument and Valve Services' business unit announced plans to invest in a 2,136 square metre (23,000 sq.ft.) facility in Hamilton, Ontario that will help Emerson Process Management and its Fisher division better serve customers in the Canadian and international nuclear industry. On October 5, 2010, a ground-breaking ceremony was conducted at the site of this Nuclear Centre of Excellence.

Scheduled for completion in May 2011, the new facility will be dedicated to control valve manufacturing and repair, as well as provide nuclear assembly and testing capabilities. Nuclear-qualified service technicians on staff will be committed to meeting CSA and ISO quality standards and customer needs.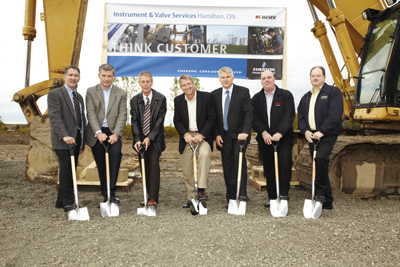 More than 60 people attended the ground-breaking ceremony in Hamilton, Ontario, including (left to right) Bill Fitzgerald (Vice President, Nuclear Business Unit, Fisher), Greg Houston (President, Lakeside Process Controls), Fred Eisenberger (Mayor of Hamilton), Denny Cahill (Vice President, IVS), Neil Alexander (President, Ontario Candu Industries), Ed Walsh (IVS Director-Operations, East Region), and Tom Spector (IVS Region Manager, East Canada).
Tom Spector (IVS Region Manager, East Canada), who is based in Hamilton, organized the ground-breaking ceremony. More than 60 people attended including four key nuclear customers, local dignitaries, and industry leaders from Emerson, Fisher, and IVS. Employees from Lakeside Process Controls, Emerson's LBP in Toronto, Sarnia, and Mississauga, will also support this facility and its nuclear-industry customers.
The international growth in demand for nuclear power represents the potential for billions of dollars in new business. There are approximately 54 nuclear reactors already under construction around the world and another 490 are planned or proposed.
Greg Houston (President, Lakeside Process Controls) said, "This Nuclear Centre of Excellence is an investment in the future. We all recognize the tremendous demand for high-quality products and services to meet the growing needs of the nuclear industry, and we are committed to a long-term presence here in Hamilton."