Where Theory Meets Practice
Customers are often overwhelmed by the abundance of complex technology in the industrial sector. Many of these technologies lack a human-centered design focus, so integration and adoption can be difficult and take unnecessarily long. For Ed Pittens, Process Automation Technical Specialist at Lakeside, this challenge is all too real. With over 20 years of experience in process automation and technical sales, Ed has a refined understanding of process automation and successfully providing solutions for complex capital projects in practically every industry sector. Having always had a general curiosity about the world around him and solving challenging problems in STEM, Ed holds a Chemical Engineering degree from the University of Waterloo and is a Professional Engineer in Ontario. Throughout his career, he has found automation and optimization of controls to be an integral ­aspect for the industrial sector and a facet of engineering where theory meets practice. With a specialization in Emerson's Plantweb digital architecture, Ed shares a little bit about himself, his expertise in DeltaV and the biggest benefits of integrating it in your plant.

 
Q: Can you tell me a little about yourself and why got you into chemical engineering?

Ed: I've always had a general curiosity about the world around me and how things work. When I was a student I was always interested in math and science, and chemical engineering seemed like a great fit to apply these fields. I started with Lakeside in 1999 – about 20 years ago. Time flies. It's a terrific company to work for – a very diverse workforce, a dynamic environment, and a place where your opinion is valued. It's been challenging, and since we deal with almost all industries in Ontario and Manitoba, from nuclear, to pharma, to mining – I've seen a wide variety of industries and projects. After working with the Process Automation Services team and doing everything from building electrical panels and software configuration, to startup's and project management, I moved into a technical sales specialist role mainly focused on large and complex capital projects. Outside of work, with three children and two huskies, I'm usually coaching sports or discovering new trails while walking with the dogs.
 

Q: If you're not familiar with Emerson or Lakeside, what is DeltaV?

Ed: DeltaV is Emerson Automation Solution's flagship process control system. It is an easy-to-use automation system that simplifies operational complexity and lowers project risk. The DeltaV system was initially designed to take advantage of the best aspects of the PLC (Programmable Logic Controllers) and DCS (Distributed Control System) worlds. Since then, Emerson continues to innovate and improve upon a great system.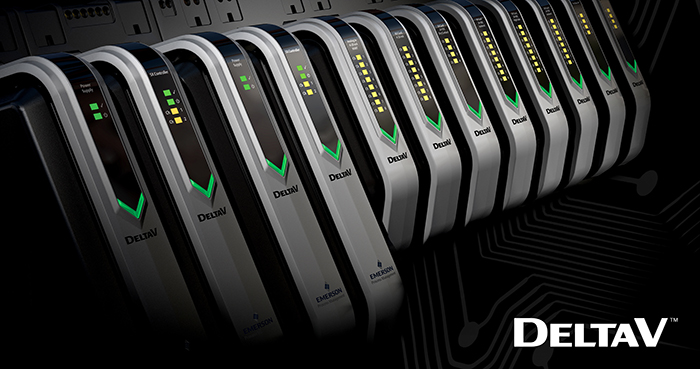 Today's instruments and valves are intelligent devices with rich diagnostic capability, but the control system needs to not only read the process variables but also take advantage of the smart diagnostics in the devices.
Q: What is the biggest benefit in integrating DeltaV?

Ed: DeltaV's biggest benefits include Embedded Asset Management, Electronic Marshalling, and unprecedented flexibility.

Today's instruments and valves are intelligent devices with rich diagnostic capability, but the control system needs to not only read the process variables but also take advantage of the smart diagnostics in the devices. No other system does this like DeltaV. With DeltaV, the user receives early warnings of issues with the process and the device itself – this allows the user to take action before a shutdown happens, keeping production going – or what we call "Operational Certainty". The asset management capabilities also include the ability to auto-sense and auto-configure devices through the DeltaV control system. This greatly improves the speed of start-up and commissioning and gets the plant up and running sooner – that's "Project Certainty".

Another game changing benefit is Electronic Marshalling. This award winning I/O architecture was released about seven years ago and there is nothing in the marketplace like it. DeltaV electronic marshalling has over 40 native CHARM I/O types and wiring combinations – without the need to add additional signal conditioning hardware. More I/O types and wiring applications means lower project risk and costs by:

1. Reduction in I/O hardware (required for project and spares)
2. Elimination of third-party components and custom wiring
3. Minimizing costs of late project changes
4. Reduction in cabinet design and required cabinet space

In addition, Electronic Marshalling is ruggedized for use in the field, so it can be installed in field junction boxes close to the field devices. This greatly reduces the overall project costs and we have tools to help estimate these savings. We have off-the-shelf cabinets for electronic marshalling, which eliminates the need for custom design cabinets. This improves overall project schedule, and all of this adds up to great project certainty.

The third benefit is flexibility of the system architecture. DeltaV's Electronic Marshalling, WirelessHART I/O, and Ethernet I/O cards all reside at the DeltaV network level – they are not a subsystem of any given controller. In other words, I/O modules are connected to the control network; not to a single, dedicated controller. Essentially any controller can access any I/O in the system. This means that I/O can be landed anywhere in the system and be assigned to essentially any controller in the system. Control strategies can be assigned to specific controllers after wiring and loading calculations are completed and control strategies can be moved at anytime, to anywhere without touching the I/O wires. No other control system in the market has this revolutionary flexibility and capability.
Technology is not a good thing unless it improves on the way work is accomplished.
Q: Is DeltaV for all industries?

Ed: Since DeltaV was designed for process control, we won't see it in machine automation (think of an assembly line). Also, in merchant power and municipal water and wastewater industries, we typically promote the Emerson Ovation system (Ovation is another control system platform that grew up in the power and water industry and was purchased by Emerson from Westinghouse. Ovation also has some specific capabilities designed specifically for these industries). Outside of those, every other industry can benefit from unique benefits of DeltaV.
 

Q: What should customers expect when they use DeltaV?

Ed: Easier deployment of projects, better vision into the process and more efficient plant operation.

 
Q: From your experience, what is the most common concern among customers? Could it be lack of technology?

Ed: Lack of technology is typically not the issue, in fact too much complicated technology is. Technology is not a good thing unless it improves on the way work is accomplished. This is why Emerson has a strong "Human Centered Design" focus when developing DeltaV and all its other products. The idea is to reduce the complexity of the technology, eliminate unnecessary work and embed knowledge in the technology.

Also, price is always a factor, but the main concern really varies depending on the customer. My life science customers typically produce products in batches, so they can tolerate some downtime between batches, but product quality and traceability are their main concern. Other customers in refining and mining are concerned about uptime and production efficiency where downtime is catastrophic. Our engineering procurement construction (EPC) customers and original equipment manufacturers (OEM) customers are concerned about delivering a quality project on time and on budget. DeltaV helps all these customers in different ways by delivering operational certainty and project certainty.

Many customers are now also looking for more insight into their process. "Digitalization" initiatives, the Industrial Internet of Things (IIoT) and 4.0 are all about connecting smart devices, getting more data from your process and using that data to improve business results.  DeltaV provides an infrastructure for generating operational data and passing it up to higher level systems, either on premise or in the cloud for informed decision-making and ultimately, sustainable operational improvements.
 

Q: What motivates you everyday?

Ed: I believe your motivation speaks volumes about you as a person and as a trusted resource at your workplace. From a work perspective, the sense of accomplishment from successfully completing a challenging task is probably my key motivator and in technical sales there are always a lot of challenging situations. I am also motivated by seeing satisfied customers. A big part of that is to ensure that the customer is treated with respect and that they are satisfied with the experience of dealing with Lakeside. While we're not perfect, I truly believe we strive for results where both our customers and Lakeside benefit from the experience.