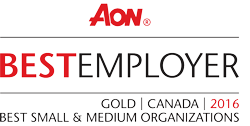 Lakeside Process Controls Ltd. (Lakeside), a Local Business Partner of Emerson Process Management, has once again been recognized as one of the Best Small and Medium Employers in Canada.

The study is conducted annually by Aon Hewitt a global human resources consulting firm and Queens School of Business. The Best Employers Study provides an in-depth view into the opinions of employees and leadership throughout the organization. Companies are ranked based on feedback collected in an extensive employee opinion survey where individuals are given the opportunity to critique organizational practices and provide anonymous in-depth feedback on their perspectives of the organization's leadership team and processes.

"We find survey results from the BSME study to be invaluable" said Greg Houston, President of Lakeside. "The results of this study directly impacts our organizations key engagement initiatives for the coming year. The leadership in our organization understand that higher employee engagement leads to greater employee retention and moral, better organizational performance and increased individual job satisfaction".

Study results for the BSME competition are published in the November 5th edition of Canadian Business Magazine.