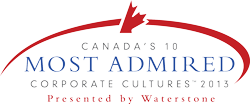 Lakeside Process Controls Ltd., a Local Business Partner of Emerson Process Management has been recognized in the February 3rd edition of the National Post for having one of Canada's Most Admired Corporate Cultures, presented by Waterstone Human Capital.

In a special supplement, the National Post article outlined Lakeside's Work-hard, Play-hard culture and discussed the companies' initiatives around Talent Management and Employee Engagement. Spending an inordinate amount of effort recruiting for fit is one of the organization's main contributing factors to their continued success. The company's procedures around recruitment have evolved over the years into a formal onboarding program. "We spend time selecting people to ensure the person we bring on board will be a cultural fit and will contribute to our success", said Greg Houston, President and CEO of Lakeside, "For us, we look for individuals who are motived by achievement and who are very people-oriented."

The Canada's 10 Most Admired Corporate Cultures competition, now in its 9th year of operation, annually recognizes best-in-class Canadian organizations for having a culture that has helped them enhance performance and sustain a competitive advantage. The full list of program winners was published in the November 21st edition of the National Post.