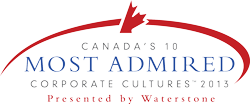 Lakeside Process Controls Ltd., a Local Business Partner of Emerson Process Management has been recognized in the Canada's 10 Most Admired Corporate Cultures competition, presented by Waterstone Human Capital. Waterstone Human Capital is one of Canada's fastest-growing retained executive search firms specializing in recruiting for fit and in cultural assessments.

Lakeside Process Controls was nominated to participate in the program in early 2013. The competition included a comprehensive written submission explaining the company's programs and initiatives and was judged on a national level in an evaluation assessing areas such as; Vision and Leadership, Organizational Performance and Corporate Social Responsibility. In the fall, Canada's 10 Most Admired Corporate Cultures Board of Governors evaluated all 2013 submissions and placed Lakeside Process Controls in the leading group.

"Lakeside has always been a company that has put Culture at the forefront", said Greg Houston, President and CEO of Lakeside Process Controls Ltd., "Awards like this are a strong indication that we are on the right path to maintaining and growing the unique principals that drive our people to personal and professional growth".

The Canada's 10 Most Admired Corporate Cultures competition, now in its 9th year of operation, annually recognizes best-in-class Canadian organizations for having a culture that has helped them enhance performance and sustain a competitive advantage. Other winners of this accolade include: CN, Dell, Boston Pizza, CIBC, Harry Rosen, RBC, Shoppers and Maple Leafs Sports & Entertainment. The full list of winners is published in today's edition of the National Post.